Out of the Blue: April 17-25, 2015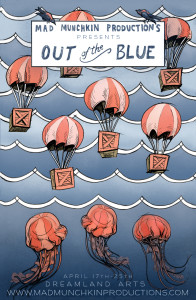 Mad Munchkin Productions is proud to announce the world premiere of…
Out of the Blue
This all-new series of original puppetry shorts debuts April 17th.   Each inspired by the title phrase, these six vastly different company created pieces are filled with multiple forms of puppetry, music, mystery, and a monster or two!  From a captain lost at sea and a little blue bird to cowboy shadows and improvisational puppetry, this show will delight every age.
Get your seat to see what might come Out of the Blue!
Dates:
April 17th at 7PM – Reception to follow
April 18th at 3PM and 7PM
April 24th at 7PM
April 25th at 3PM and 7PM
Pieces in Out of the Blue include:
Blue Bird (Created by Yours Truly!) : Through harmonies and movement, a tree tells the story of a beloved friend.
The Law of Three: A shadow and music piece inspired in equal parts by spaghetti westerns and the songs of Johnny Cash
The Wreck of the S.S. Matilda: Deep, deep under the sea, the lost captain of a long forgotten shipwreck awakens; his restless bones compelling him mysteriously onward.
The Getting' Ready Blues: Put your best furry foot forward. Can a monster bumble his way into love?
Sorted: Alley-way trash talk at 7:55AM.
Parachutes: Gifts drop from the sky. Each box a mystery, and the contents a surprise.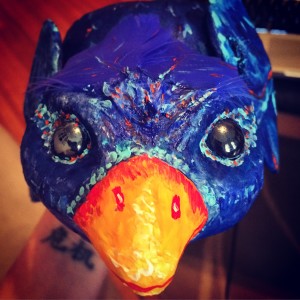 All performances will be held at
Dreamland Arts
677 Hamline Ave. N.
St. Paul, MN 55104

Tickets are general admission, $15, and may be purchased online in advance HERE!
Out of the Blue poster courtesy of illustrator Michael Jacobsen.